Mobius 2006 Thailand: Day Two


After publishing my Mobius 2006 Thailand Day One article immediately after the first day, I have to admit I was proud of myself - normally it takes me many days to transform my session notes into a complete article, so this was a big improvement over previous Mobius events. Well, you know what they say about being proud of yourself - here I am publishing the day two article (a much shorter piece to begin with) a full week after it happened. I was essentially busy and/or travelling from the second day of Mobius through until Tuesday AM, and have been catching up on email and other tasks ever since. So you'll have to pardon the lateness, but here's the Mobius day two article.

Derek Brown, BMO Director (Marketing Director) for Microsoft Thailand, started day two with a session called "Emerging Markets & The Next Billion PCs". His introduction was a brief overview of how the Pocket PC launched and how the first "Pocket PC Wireless and Beyond" event came to be (the precursor to Mobius). There was some wistful (and wincing) talk about the Palm-size PC evolution into the Pocket PC, and the things that Derek oversaw during his time on the Windows Mobile team in Redmond (including the infamous Mobile Experience Tour). Living in Thailand, Derek had a unique perspective on the military coup that occurred, and he showed us some photos of what things were like in Bangkok. Soldiers, tanks, and guns – but everything was peaceful, people were posing for photos with the soldiers, citizens handing out flowers and cheering for the military. It's about as benign as a coup can be.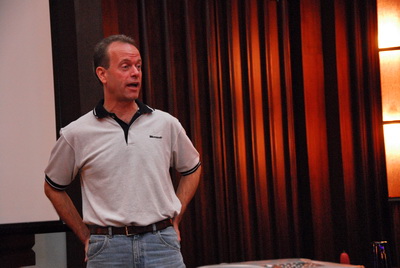 Thailand is an emerging market, with 65 million people, and most of the population still lives in rural communities. Piracy is a concern Thailand – Microsoft believes in bringing technology to people, but as a business they also want to sell software. Respect for intellectual property is lacking in Thailand – there's about 79% piracy rate, which includes software piracy, movie piracy, and other forms of IP theft. He discussed open source and governments – Microsoft is happy to compete with open source solutions, but they dislike government edicts that give an unfair advantage to open source solutions.
The average monthly salary for a middle class person is between 5000 and 10,000 Thai Baht. A copy of Windows XP costs about 3500 Thai Baht, so asking someone to pay 2-3 weeks salary is a significant sacrifice. Windows XP Starter Edition came about from a government proposal in Thailand – the government was going to go with an open source deployment, and Microsoft came back with a very aggressive proposal with a lower-cost deployment of Windows. They got the contract, but they also set a precedent for Windows pricing, and thus Starter Edition was born. It will be carried through into Windows Vista as well, though again only in emerging markets.

The mobile phone market in Thailand is about 80% pre-paid due to lower, and erratic, income. That presents a huge challenge for selling PCs, so they're working on a solution called FlexGo where the PCs are "pay as you go" similar to mobile phone plans. Pilots have been done in India with micro-Internet Cafes – they put a PC in someone's home in a small village, and they watch how people use it and what business models emerge around it. Microsoft also makes efforts to address the pricing market in Thailand – they have Office installs that cost $2.50 USD per PC per year. Derek then discussed the "$100 laptop" from Nicholas Negroponte, and expressed his personal opinion that a "good enough" solution for emerging markets might be doing a disservice to the poor people they are trying to help. There's also the question of whether or not technology is really what developing countries need the most: India apparently declined to participate in the Negroponte "One Laptop" per child, largely because they feel books and teachers are more important than laptops.

Discussion then ensued around what was really important when it comes to learning computing technology. Alex discussed how in Japan the mobile device trend is so strong that some complain that teenagers don't actually know how to use desktop computers with keyboards. Another Mobian brought up the issue that transit time is a huge driving factor in how people use computing devices – in Japan the average time is three hours, thus making mobile devices very critical. In Taipei, if you have a 15 minute commute, mobile devices are less important and PC access is more mainstream. It was very interesting to get opinions from so many varied cultures.



Last 3 articles by the same author