Tuesday, June 3, 2008
Sumo Lounge Omni Chair - Surf in Comfort!
Posted by Pete Paxton in "Smartphone News" @ 01:00 AM
http://www.sumolounge.com/


"This super-sized pillow by Sumo is the ultimate solution for all your relaxing needs. We've come up with 10 ways to use it, but some people say we lack imagination! It's a crash mat, lounge chair, loveseat or floor pillow to name a few, but the possibilities really do go on. Sumo Beanbags are made from space age rip-proof nylon and come filled with top quality Sumo Beads. Omni is 4.5' x 5.5' and it only weighs 18 lbs!"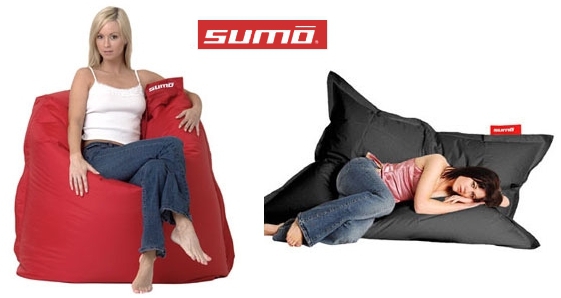 I'm definitely a skeptic. So when I was contacted by Sumo Lounge to demo one of their Omni Chairs, I wasn't sure just what I'd think of a super sized bean bag style pillow. You know what? I like it. Actually I really like it. It's durable, large, comfortable, and forms to your body yet is sturdy enough to keep you in place. When I asked the Sumo rep how he wanted me to relate the Omni Chair to our site he said "How about a super comfortable way to use your mobile device to surf, email, or take care of business." You know what? That's exactly what I do. You can throw it in the middle of any floor and use it as a crash mat, floor pillow, or even a chair. Since my wife and son always hog up the couch and recliner, I get the Omni chair out and toss it on the floor and surf away while watching tv. Since it's lightweight, stain resistant, water proof, and rip proof, I don't have to be very careful with it. Just throw it on the ground and jump in. You can purchase one on their website and also watch videos about different ways it can be used. Only one problem with it, I'm now having a problem stopping my wife or son (sometimes both) from jumping in as soon as it hits the ground.
Discuss this story [2 replies]
---