Monday, July 21, 2008
ADATA's Asus Eee Edition 16 GB SDHC Card
Posted by Chris Gohlke in "Digital Home Hardware & Accessories" @ 07:00 AM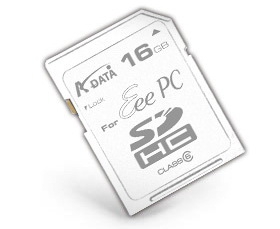 In case you're new here, I love my Asus Eee PC. Of course, what would make it better? More memory of course! If you are not familiar with ADATA, you really should be. They may not be a recognizable name brand like Sandisk, but they produce memory cards that are an outstanding value for the consumer. Their 16 GB SDHC Eee branded card looks to be no exception.





Figure 1: One of these things is not like the other...

This is the third ADATA card I've owned (I also have the 4 GB and 8 GB models) and my main product criteria was storage size. The internal memory on my Eee is enough space for the OS and the non-media related files I need, but falls short once you want to start carrying around music and movies. I recently looked at external hard drives as one solution to this issue, but sometimes you just don't want to carry anything extra or have to whip out external peripherals on a plane. This is where a really large SD card really shines.

Normally, I'd knock the branding as just a gimmick that ends up just upping the final price of the card, but in this case I'm not going to. Seems that the Eee branded card actually goes for a couple bucks less than the non-Eee branded one at Newegg. So, more power to them for getting a branding agreement that might make some customers more comfortable purchasing this product and introducing them to the brand. However, just because it is branded for the Asus Eee, it does not mean you can't use it in other devices, after all it is a normal SDHC card. It worked fine in every SDHC device I had (unfortunately my Canon S2 IS isn't SDHC compatible). So in addition to the Eee, this card would be a great companion to your digital camera/video camera.

The card only comes in white (to match the original Eee), but really, I could care less if it matches or not. If it really bothers you, a black Sharpie will solve your problem. The card was recognized and worked flawlessly when stuffed full of music and movies.





Figure 2: Where did I put that black Sharpie?
Finally, no review would be complete without a speed test. For those of you that love the crunchy bits, here are my test results from SiSoftware's Sandra:
512bytes Files Test Read Performance : 265.84kB/s Write Performance : 12.48kB/s
32kB Files Test Read Performance : 8.78MB/s Write Performance : 789.87kB/s
256kB Files Test Read Performance : 15.60MB/s Write Performance : 4.15MB/s
2MB Files Test Read Performance : 17.27MB/s Write Performance : 6.77MB/s
64MB Files Test Read Performance : 18.13MB/s Write Performance : 9.60MB/s
256MB Files Test Read Performance : 17.07MB/s Write Performance : 12.80MB/s
These results were consistent with or exceded the results for the 4 and 8 GB ADATA Class 6 cards I already owned. So, in conclusion, this card is quite the bargain. It is the least expensive 16 GB SD card I could find and it comes in at less than half the price of similar offerings from Kingston and SanDisk. You can pick one up at Newegg for $49.99.

Chris Gohlke is a Contributing Editor for Digital Media Thoughts. He loves Sci-Fi and loves to get his hands on real-life tech gadgets. He lives in Tallahassee, Florida, USA with his wife and three cats.
Discuss this story [11 replies]
---