Thursday, October 23, 2008
Encoding Made Quick and Easy With TMPGEnc MovieStyle
Posted by Jason Dunn in "Digital Home Software" @ 07:00 AM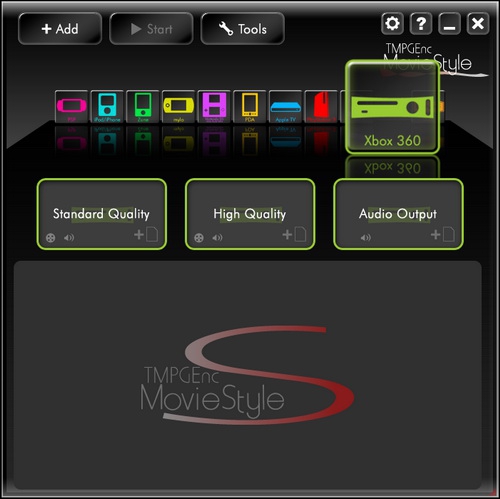 TMPGEnc MovieStyle ($39.95 USD) is video encoding software created for device-specific encoding. It has a slick, user-friendly interface that's quite easy to use - once you get it working. TMPGEnc MovieStyle, like its more expensive big brother TMPGEnc 4.0 Xpress, has an extremely irritating online activation security scheme. I won't repeat myself here - you can read about my dislike of this sort of software protection in my other TMPGEnc review - but I find myself especially irritated because I installed this software to test it while I was a passenger in a car driving back home after visiting some friends in the countryside, and I wasn't able to use the software because I didn't have Internet access. I thought maybe on this cheaper, consumer-focused video encoding product, they'd have a more relaxed approach. There's not even a graceful limited trial mode for the software when it can't be activated - it simply won't load until the license is activated online. These sort of heavy-handed, "treat your customers like thieves" tactics are frustrating to see. But let's get on with the review, shall we?
Once I returned to the land of Internet access, I was able to start up the software - only to be greeted by a warning that, without Quicktime installed, the software can't import Quicktime files. With the superb VLC Media Player installed, I don't usually need to install Quicktime. It's unfortunate that TMPGEnc couldn't work around this issue. After clicking on the curiously named "Inherit" button to bypass the Quicktime warning, the application finally launched. The user interface is slick - the opening screen matches the screen shot above. First, you select the device you want to prepare the file for: PSP, iPod/iPhone, Zune, Sony Mylo, Nintendo DS, PDA, Apple TV, Playstation 3, Nintendo Wii, Xbox 360, and a DivX option. For each device there's a Standard Quality option, High Quality option, and an Audio Output option. When you click on the quality option a file select window pops up, and you can select the video file you want to transcode. Files supported include DivX, AVI, MPEG, DVR-MS, WMV, MOD, ASF, and a few others. The Web site listed MPEG4/h.264 support, so I was confused why I didn't see it listed. Playing a hunch, I installed Quicktime, and not only did MOV file support show up, but so did MP4, M4V, 3GP, 3G2, and AMC. So it seems that in order to get any support for MPEG4 files, in any form, you need Quicktime installed. Bummer.
There's a DVD import function as well - once you manually select the VIDEO_TS folder on a DVD (that has been decrypted with AnyDVD, naturally) you get the option to select one or more titles on the DVD, including selecting subtitles and the language track. There's an option to copy it to the hard drive for faster transcoding, and options for quality (Standard, Long Play, High Quality, Audio Only). My test rip of a 22 minute TV show was flawless - I had selected the Zune High Quality option, and the resulting 320 x 240, 1344 kbps WMV file looked great and had perfect audio sync. I performed a similar test with a DVR-MS file I'd recorded off TV, and it worked equally well. I did notice that there's no format selection for the hardware types though; for instance, the Zune is locked into encoding only to WMV. I'd have liked to be given the choice to encode to h.264.
Once the encoding started, MovieStyle showed its pedigree: when encoding using the high-quality Zune setting, it used around 90% of the Intel dual-core CPU on my laptop. There are numerous nice finishing touches throughout the program - for instance, if you right-click on the big Standard Quality, High Quality, or Audio Output buttons, you can pull up the settings summary is for that setting. You can also re-assign the buttons, so if you'd like one to be Long Play and one to be High Quality, you can change it to match what you want. Other enhancements for customization and speed include turning on Quick Encode, which gives you the ability to right-click on any video file you have in any folder, and kick off a transcoding setting with a couple of clicks. You can tweak the right-click function to only display certain devices, which helps streamline the process. It also has the ability to monitor a "drop folder", meaning you could point it at your Recorded TV folder and whenever a show is finished recording, MediaStyle would transcode it so it's ready to sync to your Zune or Windows Mobile smartphone. There's also a 24 fps Cinema mode conversion, speed shifting (making a video file slower or faster), and a dubiously useful "Karaoke mode" which as far as I can tell simply removes the audio from the video.
TMPGEnc MovieStyle is a surprisingly powerful program for the price, and given its flexibility and features, I highly recommend it as a tool for video transcoding. While CloneDVD Mobile is more streamlined and easier to use when it comes to DVD ripping, it can't convert local files. I've used a lot of video encoding/transcoding applications over the past few years, and many of them are junk. TMPGEnc MovieStyle is a truly superb program that is virtually flawless - it earns my highest recommendation.
Jason Dunn owns and operates Thoughts Media Inc., a company dedicated to creating the best in online communities. He enjoys photography, mobile devices, blogging, digital media content creation/editing, and pretty much all technology. He lives in Calgary, Alberta, Canada with his lovely wife, and his sometimes obedient dog. He likes transcoding videos.
Discuss this story [14 replies]
---