Tuesday, December 23, 2008
Mobius 2008, Winter Edition
Posted by Jason Dunn in "Pocket PC Events" @ 02:30 PM
In November I received an invitation to the second Mobius event of the year, held in Seattle just like last time. Mobius is a time where the invite-only attendees typically get to see Microsoft's road-map for future, hear from vendors and OEMs, pass along feedback to Microsoft, and network with each other. Microsoft covers the airfare and hotel stay for people who attend, unless they choose to pay their own way. Rarely one to turn down a free ride, I took them up on their offer.
The first part of every Mobius event is the meet and greet, held the night before the conference officially starts. It's always enjoyable to see my peers, and there are usually a few new faces every event. Meeting new people is a key part of what makes Mobius a fun event. The folks from Celio were present, showing off the new REDFLY products, and upon leaving we were given a nice laptop bag. I have a bit of a laptop bag fetish, so I always appreciate new bags to carry my gear in.
Mobius Day 1
The morning kicked off with an introduction from John Starkweather, and then the demos began. It's a Mobius tradition for everyone to stand up, introduce themselves, and show something off. Being the gadget geeks that we all are, there were demos of the Sony-Ericsson XPERIA, the Samsung OMNIA, and other phones and mobile devices.
Figure 1: Laptops galore, and in fact, Macbooks galore, at Mobius.
Windows Mobile Branding
Liska Rutherford kicked off a session talking about the Windows Mobile brand. Some of the challenges they face with the Windows Mobile brand include power user awareness, the significant marketing investments made by their competition, the compelling competitive brands, and the fact that software isn't top of mind for all consumers. The strengths they can bring to bear include the fact that there are 1 billion Windows users world-wide, and a large percentage of those users like the idea of having Windows on their phone. We had a discussion about the perception vs. reality of having Windows on a phone. I believe many consumers who answer yes to whether or not they want Windows on their phone are thinking of it in terms of a desktop/laptop experience, when the reality is that a phone is going to offer up a very different Windows experience than a desktop or laptop. Still, there's clearly an opportunity here for Microsoft - as long as they can address the consumer market properly, something they've historically struggled to do.
There's a significant opportunity with mobile power users - they're the number one growth segment, and what Windows Mobile brings to the table (the software) is becoming increasingly important to consumers with the added awareness that platforms like the iPhone brings. When you see those iPhone commercials showing the device in action, consumers are being shown the power of software. And because the iPhone makes it look so easy to do, it drives consumer demand for easy, but powerful, software. In thinking about power users and how Rutherford said it was the biggest opportunity for growth, I couldn't help but think about how often Microsoft has taken feedback from the Windows Mobile MVPs, put it in the "power user" bucket, and generally ignored it. I've been told for years that what power users want isn't what normal users want, but perhaps the market has evolved to the point where normal users are inching into the power user zone and suddenly our feedback is considered valid. We'll see.
So what does Microsoft want to see happen in this market? They want Windows Mobile to be the most-demanded mobile platform - they want consumers to walk into a carrier store and ask for a Windows Mobile phone. This is the same thing they've wanted for years though, and it's a tough goal to reach because Microsoft does so little direct the marketing of Windows Mobile. When Samsung or Motorola advertise their phones, the fact that it has Windows Mobile is typically downplayed. The hardware makers focus on selling their hardware, and the software is an afterthought. What Microsoft needs to do is make their software so great, so wow-inducing, that the hardware makers want to promote it because they see it as an asset.
Windows 7 for Consumers
Mark Croft and Brian Yee from the Windows Product Management team presented Windows 7 to us. I've had some experience with an early technology preview (as in, pre-beta) of Windows 7, and I really liked what I saw. They had a slide called "Windows Has Changed" that had an interesting point - it said that they were focusing on quality over timeline, and timeline over features. Deconstructing that, you get a focus on quality first and foremost, followed by timely releases (no more five year waits), and features last. Features last? That's an interesting departure, because Microsoft has traditionally been fairly feature-focused, to the point where trying to implement features drive back product release dates. Microsoft has three main goals with Windows 7: making it work the way you want, making everyday tasks faster and easier, and making new things possible. All laudable goals, but so much depends on the hardware partners and the "d" word": drivers.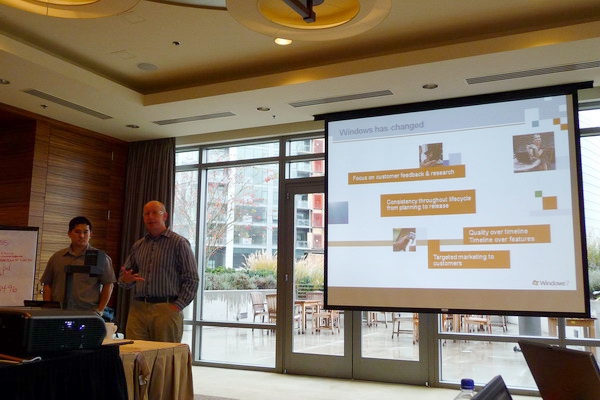 Figure 2: Mark Croft and Brian Yee walk us through some of what's coming in Windows 7.
In the category of it working the way you want, they're focusing on making Windows 7 faster and more responsive - no doubt in direct response to complaints about Vista's sometimes sluggish behaviour. Specifically, better performance, faster startup and shutdown, quicker task management, improved battery life, and working closer with PC manufacturers. The last goal is a key ingredient when it comes to having the best user experience possible.
Take a very standard laptop task of putting a laptop into suspend (sleep) mode, and having wake up again. I have a Dell XPS M1330 laptop, a piece of hardware purchased some 18 months after Vista first launched. So, in theory, it should be a laptop completely optimized for Vista. Yet when it comes to sleeping and waking, I'd describe its functionality as suspect at best. It often takes 10 to 20 seconds from when I shut the lid until the power light starts pulsing to indicate that it's in sleep mode. I prefer not to pack the laptop up until I know the hard drive has stopped spinning, so that 20 seconds can feel like an eternity. And lately, putting it to sleep triggers the cha-chunk sound of the slot-loading optical drive, which is a bizarre development. Resuming the XPS M1330 is an uneven process at best - the laptop will power up, the lights will blink, and I'll be staring at a black screen for around 12 seconds until I'm presented with the login screen. Compare that to most Macbooks and you'll see why the marriage between hardware and software matters so much. Microsoft and their partners need to do better.
Figure 3: Windows 7 uses the same amount of system memory for drawing windows regardless of whether one or 50 windows are open.
Figure 4: When you click on an item in the taskbar, and it's already an open program, if there are multiple windows you'll get a preview of each one.
When it comes to compatibility, if it works with Windows Vista, it should work with Windows 7. There are no major API changes, which is a critical point: that means that if there's a Vista driver for your hardware, that should work under Windows 7 without issue. That's great news, because driver issues were one of the top frustrations for people moving to Windows Vista with XP-era hardware. Windows 7 will be more reliable as well - there are some improvements in reliability and self-diagnosis. There will be fewer prompts for user account control for instance, and in fact the default will be at a lower threshold than it was for Vista. There will be more controls for the user regarding account approvals, and it will be more discoverable than it was in the past.
Figure 5: Each item in the taskbar will have enhanced functionality. Clicking on the item gives you this pop-up menu that has frequently used tasks related to that item.
Discuss this story [14 replies]
---