Friday, February 6, 2009
Microsoft "My Phone" Service Announced Early
Posted by Jason Dunn in "Pocket PC News" @ 05:48 PM
http://www.windowsmobile.com/myphone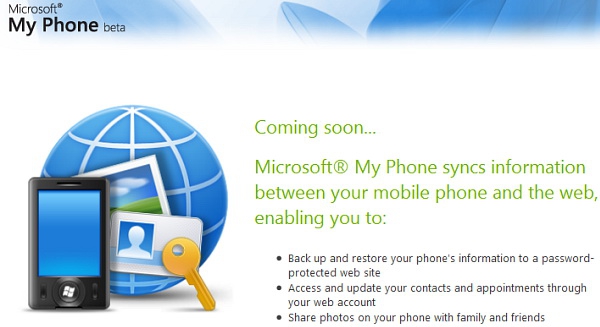 This is the service we've formerly heard referred to as Skyline Skybox. Scott Rockfeld, Director in the Windows Mobile group at Microsoft, gave this public statement today:
"Today, Microsoft's My Phone Web site went live prior to its scheduled debut. However, we are excited about the new Microsoft My Phone service, which will be available as a limited, invite-only beta. This is a significant milestone for Microsoft as it connects the phone to the PC and Web, making mobility a key pillar for the company's software+services strategy.
This new Microsoft cloud service syncs critical information (e.g., contacts, calendar appointments, tasks, text messages, photos, video, etc) on a user's mobile phone to a password protected Web site. Once synchronized, people can easily back-up and restore mobile phone data. My Phone provides an easy to use Web portal where people can access and manage content on the phone, and share that information with others.
My Phone helps people:
• Keep their information backed up if they lose or break their phones.
• Transition information if they switch to new phones.
• Access the same information from their phone or PC."
This is shaping up to be a very interesting service in a number of ways - first, at launch it's going to be free. Second, if you've already got a phone synching with an Exchange server, your calendar/contacts/tasks. This is, essentially, Exchange ActiveSync for the rest of the world who's not using Exchange. We'll see how it plays out - especially how locked-in it is to Windows Live services. Will it play nice if you're using other services? Even if it doesn't, this could be THE killer reason for some people to switch to Windows Live services instead of competing services from Google, Yahoo, etc. Check out the My Phone site for more details.
Discuss this story [10 replies]
---