Tuesday, March 31, 2009
Posted by Jon Westfall in "Pocket PC Talk" @ 06:00 AM
About a month ago I decided to try something. For over 4 years I'd had a Gmail account that did little more than filter SPAM before it passed up to my exchange server, yet I kept hearing about all the awesome things you could do with Gmail. Sites touted various features and gizmos, the ability to search easier and the quicker load times than my existing solution, Outlook. So I decided to take the plunge and go Google for a bit and see how I felt about it.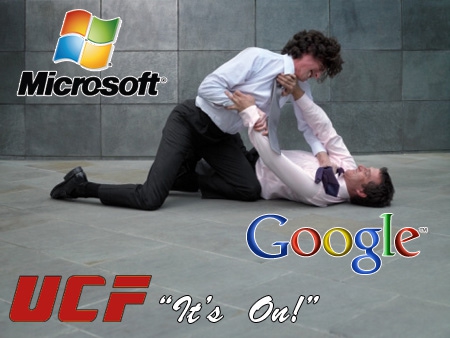 Photo Credit: flickr user murilomernardes
On February 26 I disabled Gmail's forwarding to my exchange server, and now after 1 month, I'm ready to share my impressions. First, I'll share a bit about my motivations regarding the Google experiment. First, Outlook can be an awesome product if you exist solely in 1 email strata. If you're using it for your corporate mail, on your corporate laptop, for your corporate buddies to send you corporate things, it's awesome. Aside from slower than preferably load times, it provides everything you'd need to be productive. But my situation isn't strictly corporate. In fact, my exchange server has 3 users on it. This left me wondering if a product geared toward consumers may be a bit more useful to me.
Another thing that intrigued me was the strange mystique GMail has. If someone tells you that their official public email is [email protected] or @yahoo.com, you may wonder why they would use a service that doesn't provide a professional domain name. After all, yahoo @ hotmail are the addresses favored by angst-ridden teenagers everywhere. But if someone publishes a @gmail.com address, they tend to be cast differently - a psychological oddity where one free e-mail service appears more "professional" than others. This made me a bit less leary when sending e-mails that stated in the from line as "on behalf of".
The GMail switch went seemless on my desktop after I dumped my calendar & contacts in Google, but I had one problem: My beloved Pocket PC. Gone was easy Exchange activesync for e-mail, although it still existed for calendars and contacts. Moving off Exchange e-mail on my Pocket PC to clunky old imap was one of the hardest parts of the entire experiment (Even after I found this software, which I then patched - gotta love Open Source). So critical is e-mail to me, that imap simply was unacceptable as a solution (at least in Windows Mobile's current imap implementation). Third party apps were too bulky, and so my experiment prompted what may be the first surprise revelation of this piece: I stopped using my Windows Mobile devices as my primary phone. Yes, you read that right - a Windows Mobile MVP who had used Windows Mobile for 6 years without missing a beat switched. And what did I switch to? A G1, after all, it fits in with the Google experiment, right?
So now that all of the exposition is done, how do I feel after 1 month? Well, here's the points I have to make. You're welcome to comment on any or all of them.
Google's suite of services is dang impressive for consumers, yet seems a bit unfinished. I told you that I had a GMail account, and this means I also could log into other Google services. I hardly ever did though, except for iGoogle which I used as my homepage. Switching to GMail for e-mail caused me to begin heavily using Google Reader to catch up on website, Google Calendar, Google Docs for quick document creation & sharing, and more. Given what was available in 2003 when I went to Exchange/Pocket PC/Office full time, I'm amazed by how much Google offers, and for the low price of free. However the 'beta' labels I saw throughout my Google experience, coupled with a few oddities made me wonder how acceptable Gmail is as a full time solution. What oddities? Oh, maybe this outage, or labs features being taken for granted (After all, beta means nothing in Google land right?). And of course, a pseudo-real offline client.
It is unfeasible, when working and playing with others, to ditch Office. This may be a bit controversial, but to a person who has all Office using colleagues and friends, it is not practical to switch away from Outlook, Word, & Excel to Gmail, Docs, and Spreadsheets which arguably would be the next transition to go from Microsoft to Google. It also might not be all that safe.
Android is not ready for prime time. One of the more interesting parts of the experiment has been using an android phone. While some parts are very nice, the only reason I have stayed on Android for the last 2 weeks (and I've been an Android user for 3 weeks now) is the seemless E-mail, Contacts, & Calendar sync. If Google offered e-mail through Activesync (Which is rumored to possibly come in the future), I'd switch back to Windows Mobile full time tomorrow. Android shows a lot of promise, but simply isn't there yet. Examples? Well, how about the Marketplace application. The same apps stay at the top, the search options are terrible (especially for a Google product), and the reviews are hit and miss (here's a piece with more ranting on it) . Another example? Well the homescreen isn't too customizable unless you use a third party (Seriously Google, 2 widgets? Why have them at all?). And a last example that bugged the heck out of me? The built-in maps program is so bad that when navigating, it doesn't even keep your location updated regularly (Which renders it useless for driving). One bright spot though - it would let me use T-Mobile's 3G network for the first time, if I lived in a place with 3G coverage.
There are my three observations after one month. Google seems to work well for the individual, Microsoft works well for the corporation. I'm an individual academic, so where do I fit in - I'm neither kooky one-man hipster blogger type (If I was I'd be on a Mac right?) or corporate drone. In a sense, and I guess the principle finding of my Google Month is this: I could switch from Microsoft to Google, but it wouldn't cause any fewer headaches.
So what do I plan to do in April? Well my bloodlust for Windows Mobile devices stilll runneth deep within my veins. Translation: I have a new device waiting at my local post office, and it ain't an android phone. For now I'm back on Exchange, but I'm keeping Google sync'ed up with my Calendar/contacts/e-mail. Why? Well for one, I may use the G1 again when travelling to T-Mobile 3G coverage areas (Especially with this hack I found) and next month I'll probably play with it when the next major Android release drops. And second - it's always nice to have options (especially with a self-administered Exchange box running off a DSL connection). So there you have it. Google wasn't my messiah - and while I may not be a cool hip blogger guy talking about his favorite GMail tweaks, I do have years of Windows Mobile and outlook experience to continue to share!
Jon Westfall is a decision making researcher, tech enthusiast, Windows Mobile MVP, and all around great guy. He writes for Pocket PC Thoughts, a member of the Thoughts Media Network.
---