Thursday, May 7, 2009
Posted by Jason Dunn in "Pocket PC Software" @ 02:24 PM
http://www.microsoft.com/windowsmob...s/facebook.mspx


"New from Windows Mobile: a Facebook application for your phone! Download the new Facebook application for Windows Mobile and: Send messages to any of the people in your Friends list; Take pictures and videos on your phone, then upload them right to Facebook; Send messages or call people in your Friends list; Manage your profile and post anytime, anywhere. Keep up with the latest news and posts with Facebook on your phone. Now your status updates can be up-to-the moment accounts of what you're doing. Photos and videos are about as close to live-action as you can get. Show your friends what you're up to, while you're out and about. Connecting and sharing on Facebook just got a lot livelier!"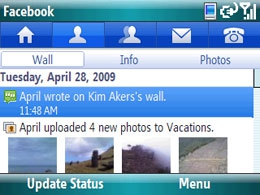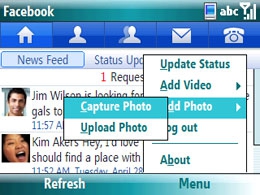 In typical fashion, this had been leaked elsewhere previously, but now it's official: the release version of the software is public and available for immediate download. What I find most interesting about this is that it's a Facebook application developed and released by Microsoft. On the iPhone, Facebook developed their own app for it. On Windows Mobile, Microsoft had to do it. That doesn't say much for what Facebook thinks of the Windows Mobile platform, now does it? Looks like RIM developed their own app for the Blackberry though, so this isn't without precedent. Guess the people at Facebook just love their iPhones.
The app will work on all Windows Mobile 6 and 6.1 smartphones, both Professional and Standard - sorry all you Windows Mobile 5 owners. You can grab a mobile download here if you wish. I haven't taken it for a spin yet, but will shortly. Let me know what you think of it!
Read

Discuss [10 replies]
---