Monday, July 13, 2009
Posted by Jon Westfall in "Pocket PC Software" @ 05:00 AM
http://www.nuevasync.com/



Earlier this week, synchronization service NuevaSync announced their latest addition to the platform, push e-mail. NuevaSync already had calendar & contact sync from Google to Windows Mobile, iPhone, and pretty much any platform that supports the Microsoft Activesync protocol. Since I've been using Google for the last month or so (in lieu of my exchange server), I thought it may be interesting to give this service a shot. After all, only $25 for a year of service isn't too pricey (.002 cents per hour if you want to think of it that way...).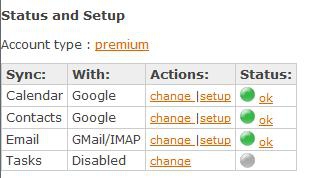 The first thing you notice about NuevaSync is it's no-frills website. This makes it mobile friendly, and still usable on the desktop. Their site was a bit disjointed (with a Wiki and Blog loosely linked up, with recent navigation improvements) but it gets the job done. After upgrading to Premium (for $25 a year), you can access the e-mail action. This is where you link up your IMAP e-mail account. Any IMAP server that supports the IDLE command should work just fine with their service, and they have an express setup option for GMail users. Contacts & Calendar set up easily as well, and as a premium user you can select which Google Calendars you want to sync with your device.
There are a few pitfalls and "gotchas" associated with NuevaSync, however. First, see that "Tasks" link above? Well, it doesn't work! I suspect this means that they'd like to integrate tasks (Which would be fabulous), but haven't gotten there yet. The calendar option, while it allows you to sync multiple calendars, doesn't support calendar-to-category sync yet, so all of your sync'ed items dump in with no category to identify their original calendar. This is a minor inconvience, but having category support would be extremely nice. After contacting NuevaSync, I found it is a feature they intend to add at some point soon!
There are other alternatives out there to use your Windows Mobile device with Big G, however my favorite set up is one I don't need to run on my own systems - and NuevaSync appears to fit the bill. So if you're looking to get your Google Mail, Contacts, and Calendar on your device (and don't have a server ActiveSync source), then check them out!
---