Mobius 2006 Thailand: Day One


Mobius kicked off with a round-table of introductions – there are many new faces at this Mobius, mostly from Taiwan, Singapore, Japan, and Hong Kong. New opinions in the room are a breath of fresh air, so I was looking forward to what would be offered up by people in the room. In the interest of full disclosure, Microsoft paid my way to come to Thailand: airfare, hotel, and meals during the Mobius conference. My wife Ashley came along with me, and I paid for her ticket and our hotel stay prior to the start of Mobius. The first night we were given a red RoadWired Pod, which happens to be one of the few RoadWired cases I didn't already have.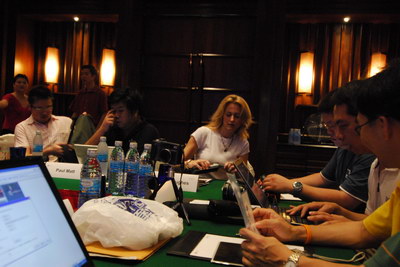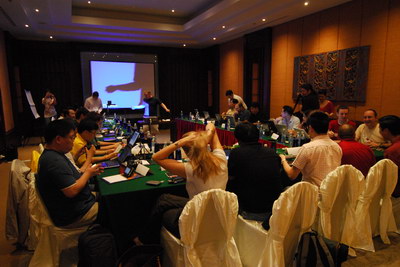 Session two was a presentation from Derek Snyder that covered the current state of Windows Mobile 5 devices, including showing some new devices such as the HTC Excaliber. HTC built in a predictive text engine that is apparently more advanced than what Motorola offers with the Q. Derek then demonstrated a Windows Mobile Palm Treo running the MSFP update, which he used to look up an address in the Microsoft corporate global address list (GAL). I suspect minimal use for most people in this room with me, but great for corporate users. The new Windows Live Messenger client Derek used looks quite interesting – I don't use IM much on my device, so I hadn't checked this out yet. The multiple tab for popping back and forth between conversations is very cool, and useful for heavy chatters. There's a Today screen plug-in allows you to quickly access your Windows Live settings, including your Messenger status and name. Yahoo! Go is another new app that I haven't used – not being a user of anything Yahoo! related other than the Mobius mailing list – but it seems to function like a "lite" Exchange server. The client synchronizes your calendar, contacts, tasks, and email with Yahoo services. For heavy Yahoo users, this looks like a killer client worth checking out. They even have some Web-based games, and photo sync to connect your Yahoo photo album with your device. You can configure it to automatically upload photos taken with your Windows Mobile device – slick.



Last 3 articles by the same author