Friday, October 24, 2008
Posted by Rocco Augusto in "Smartphone Talk" @ 04:30 AM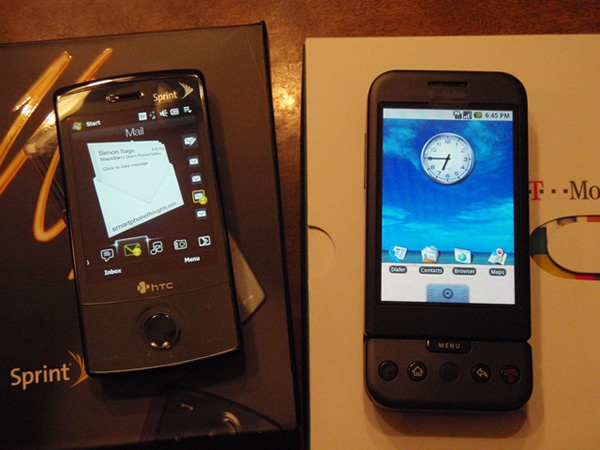 Remember a few weeks ago when I reported that my Samsung Blackjack had an unfortunate run-in with a clumsy waiter and a glass of water? If so you will probably remember that I was taking suggestions for new phones to purchase. Being the undecided gadget enthusiast that I am, even after I decided to pick up the HTC Touch Diamond from Sprint, a company which I loathe, I decided to pick up a T-Mobile G1 as well. I figure if I am going to be stuck with one of these devices for the foreseeable future, I better put them to the test and see which one comes out on top and in the process expand my mobile gadget horizon.
Summary:
After playing with the T-Mobile G1 since I first picked it up bright and early at 8:00am and playing with the HTC Touch Diamond all day yesterday and today I can easily say hands down the T-Mobile G1 is so much more usable than the HTC Touch Diamond. There are some things I really like about the Touch Diamond and the TouchFLO 3D interface truly is beautiful. Unfortunately I have found the TouchFLO 3D interface to not be very practical and the device itself to be fairly unusable for my needs. After using a Windows Mobile Standard device for years on end and being accustomed to the streamlined layout which allowed me to get to whatever I needed with one hand quickly - jumping over to the cluttered and highly frustrating old school Windows 95 tap based interface of Windows Mobile 6.1 Professional just filled me with pure rage. Why in the world does everything that triggers a reaction in the operating system have to be so darn small and hard to press?! Can someone PLEASE explain that to me!? Even with a stylus I spent a large majority of time thinking to myself "Really? Someone thought this was a good design idea…Really?"
Keyboard
I spend a lot of time emailing and texting on the go and even though I didn't realize it at the time, looking at my bill I seem to be the type of person that uses over 1500 SMS messages a month. Who knew? Seeing as how I am always emailing and texting, I quickly realized that the Touch Diamond was going to take some getting used to. I often found myself hitting the wrong key and taking more than twice as long to hammer out a SMS than it would have taken me on my Samsung Blackjack. I know the Samsung Blackjack had a really tiny keyboard, but after using it for the past two years I could crank an email like nobody's business. Touch based keyboards are good in theory; as they help keep device size to a minimal, but they are in no way whatsoever a true replacement for something you can physically feel the different key heights and textures.
The T-Mobile G1 on the other hand includes a very snazzy keypad which is actually really pleasant to use when the device is not charging. Once you connect the USB cable into the bottom of the device, using the keyboard can be a bit of a pain but is nowhere near as slow and tedious as using the HTC Touch Diamonds on-screen QWERTY keyboard. Out of every QWERTY keyboard enabled device I have ever used, I would rate the T-Mobile G1 up there with the Motorola Q9(insert random letter here)
Screen and Size
Both devices have a very bright and vivid screen that just jumps out at you. The T-Mobile G1 has a larger screen, which is to be expected with a phone of that size. While the T-Mobile G1 is also a pretty hefty device, in images and in person, it is actually not too shabby. It has a good weight and it feels fine in my pocket. Not too big, not to small and not to heavy. The HTC Touch Diamond on the other hand is in my opinion the perfect size. It is small and compact and as you can see from some of the comparison images below, it is not that much bulkier than my current Samsung Blackjack if you include the Samsung Blackjack's camera into the equation. It feels a little heavier in my pocket, but besides that the size is absolutely perfect.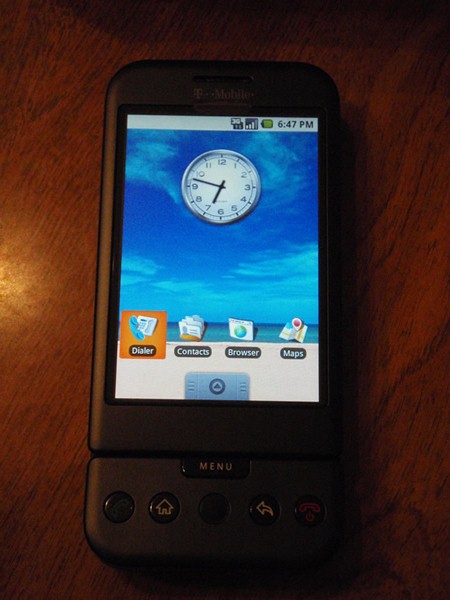 [The T-Mobile G1 in the flesh... or plastic!]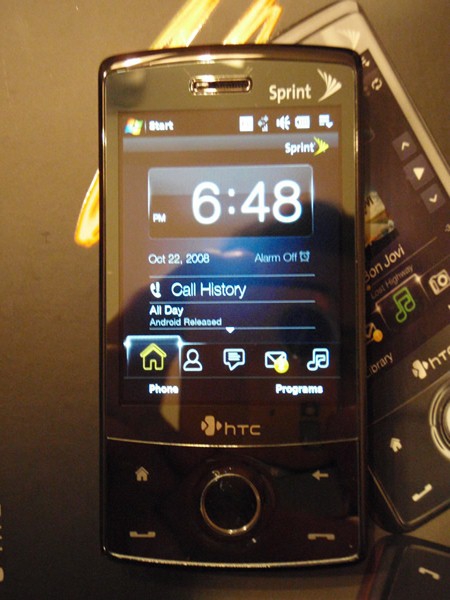 [The HTC Touch Diamond. Image is probably larger than actual device. This device is tiny!]
To be completely truthful, when I original saw just how tiny the HTC touch Diamond was, my jaw dropped a little. Sure we have all seen images of this device online but you have to see this device in person to truly understand how tiny and perfect it is. You just can't tell from images because no one ever puts the devices next to anything for scale… besides maybe another device that you might not be familiar with in person. This is why I snapped some pictures of the T-Mobile G1, HTC Touch Diamond and my Samsung Blackjack all next to one United States dollar. See for yourself, this thing is tiny!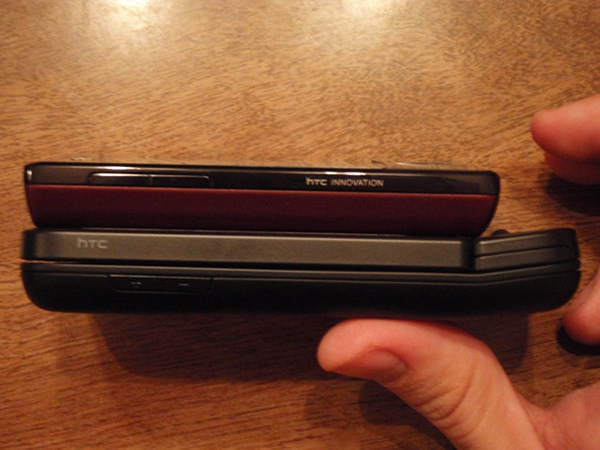 [HTC Touch Diamond and T-Mobile G1 side profile]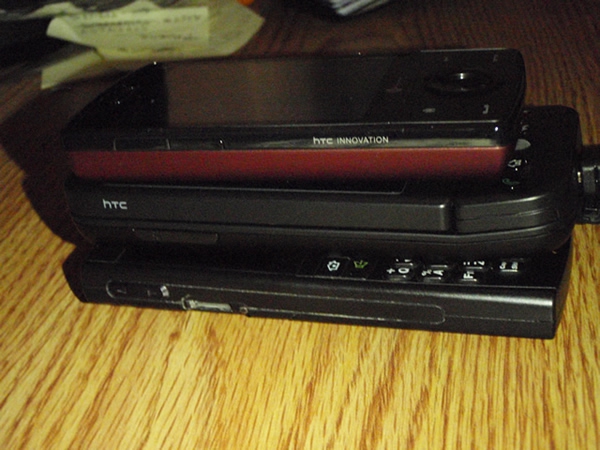 [HTC Touch Diamond, T-Mobile G1 and Samsung Blackjack required stacking picture]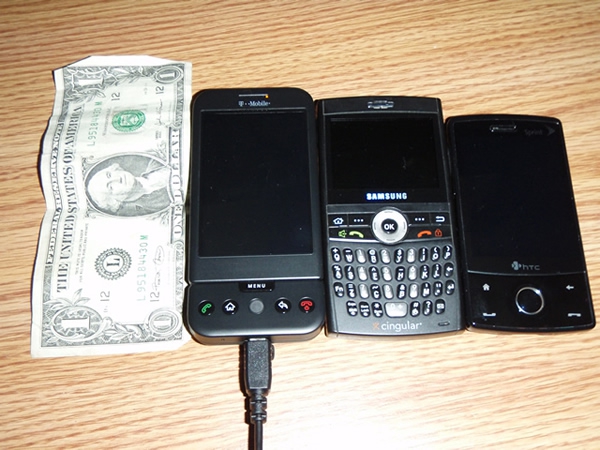 [Size comparison of T-Mobile G1, Samsung Blackjack and HTC Touch Diamond in relation to the a US Dollar bill.]

---