Saturday, December 27, 2008
Google Android Cutting Into Windows Mobile Marketshare
Posted by Rocco Augusto in "Smartphone News" @ 04:00 PM
http://pocketnow.com/index.php?a=po...&t=news&id=6490


"Let's be frank, the impressive number of folks jumping ship to new OSs and other companies claiming increased smartphone market share are clear indicators that plenty of customers want something other that Windows Mobile, and the latest words out of Microsoft's largest mobile partner certainly reconfirm our suspicions. A unnamed HTC executive speaking to Smarthouse admitted that the sales of its flagship Android device are, in fact, hurting sales for HTC's Windows Mobile offerings. Now, we'll probably have to wait a bit longer for more comprehensive numbers -- if they're ever actually released -- but we have a feeling that people want something different, and Google's first dip into the mobile OS space is certainly a viable alternative."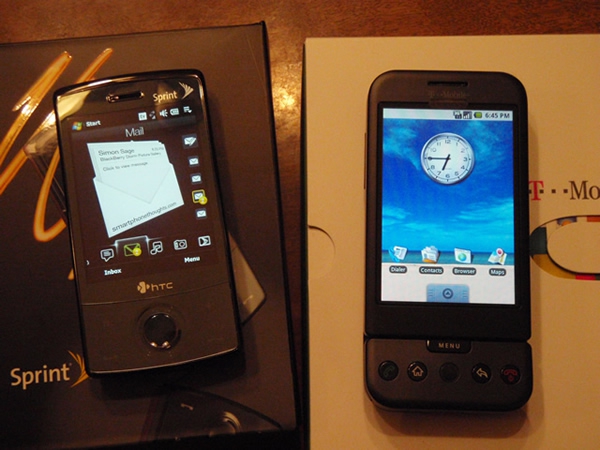 This is unsurprising news. In 2008 we saw a drastic increase in touch based Windows Mobile devices, such as the HTC Touch Pro and HTC Touch HD but at the same time we also saw almost all Windows Mobile device makers move away from Windows Mobile Standard platform, which in my opinion is the bread and butter of the Windows Mobile ecosystem since it competes directly with RIM's Blackberry dominance in the business world. Unfortunately as good as Windows Mobile Standard is the same cannot be said for Windows Mobile Professional. The Pocket PC platform was designed for a different time and for new users of the operating system can be incredibly difficult and frustrating to grasp. Heck, even after I spent some time with the HTC Touch Diamond I had to trade it in for an easier to use device. Sure T-Mobile's G1 isn't the most attractive device on the block - in fact it's a hideously ugly device - the beauty of the first Google Android device lies in the software. Google's Android platform is fun and easy to use and most importantly it is incredibly exciting.
Microsoft had a dream with Windows Mobile. Create a mobile operating system and license the technology to OEMs so they can create awesome exciting new devices. Unfortunately Windows Mobile hasn't changed at all since I started using it on my Motorola MPx220 way back in the day. Sure, we might have received a fancy new homescreen with Windows Mobile 6.1, but that is just Window dressing on a house that is already falling apart. The fundamental flaws of what holds Windows Mobile back are still present well over a half a decade since I started using it. Google on the other hand paid very close attention to Microsoft's dream and tweaked and applied that dream to the current generation of mobile devices and users.
Can Microsoft come back and create the software and excitement needed to save it from obscurity? Only time will tell. In the meantime however, I would expect to see Google Android continue to nibble away on Microsoft's market share well into 2009; especially as more and more companies release more Android based devices.
Discuss this story [18 replies]

Source: Engadget Mobile
---